Anti-GMO measure goes down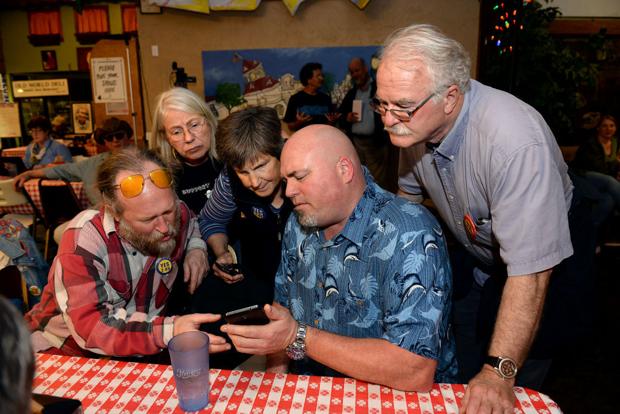 Measure 2-89 supporters, from left, Vernon Huffman, Stephanie Hampton, Martha Perkins, Bret Diamond and George Hutchinson look over the early election results at the Old World Deli on Tuesday night. Voters soundly rejected the proposal to ban GMOs in Benton County.
After a hard-fought campaign marked by contentious public forums, dueling yard signs and vitriolic letters to the editor, Benton County voters overwhelmingly rejected a ballot measure to ban genetically modified organisms on Tuesday.
Measure 2-89, also known as the Benton County Local Food System Ordinance, was getting less than a third of the vote in unofficial returns Tuesday night, with 16,556 no votes to 6,270 yes votes.
Monroe-area farmer Debbie Crocker, who emerged as the face of the opposition during the run-up to the election, was at the Old Spaghetti Factory in downtown Corvallis with about 20 other Measure 2-89 opponents when the first election returns were announced.
"I guess the voters read it and understood it was a poorly written measure," she said in a phone interview.
Crocker, whose family grows genetically modified sugarbeets and a number of other crops on about 2,000 acres in south Benton County, expressed relief that the election was over, but she added that she expected the issue to be back on the ballot at some point.
"It's probably something that will come up again," she said. "There's a lot of people who have a lot of passion about it."
A few blocks to the south at the Old World Deli, more than a dozen 2-89 supporters were expressing their disappointment at the defeat but vowing to try again.
"We went down pretty big," acknowledged Stephanie Hampton, a spokeswoman for Benton Food Freedom, the political action committee promoting the ballot measure.
But she also said the campaign had scored a victory by starting a "community conversation" about the importance of safeguarding the local food system and vowed that the group would put a new and improved version of its anti-GMO ordinance on the ballot as early as next year.
"We will be rewriting it because we think our local food system is an important thing," she said. "Now that the conversation has been started and people are aware of the issues, we can go forward from here."
Measure 2-89 sought to outlaw the cultivation of genetically modified organisms in Benton County and would have required all GMO crops to be harvested, removed or destroyed within 90 days of passage. It also aimed to establish rights for "natural communities" such as soil and plants and would have limited the use of patented seed lines by barring the enforcement of patent rights on seeds.
Supporters argued the ordinance was needed to protect organic crops from contamination by GMOs and to defend the local food system against domination by large agribusiness and chemical corporations.
Detractors countered that M2-89 would create financial hardship for conventional farmers who want to grow GMOs, such as the Roundup Ready sugarbeets produced in the area, as well as those who choose to plant patented seeds. They also pointed to language in the measure they said would have shut down non-food-related research involving genetic engineering at Oregon State University and local biotech companies.
Supporters of 2-89 insisted it was never their intent to prohibit laboratory research, and Hampton said Tuesday the revised measure would include "clarifying language" to that effect.
The measure was also dogged by questions regarding its legality. If approved by voters, it would have directly contravened a 2013 state law that bars local jurisdictions from regulating agricultural production. The authors of 2-89 tried to get around that statute by asserting a fundamental local right to self-governance.
A similar tactic has been used in nearly 200 local jurisdictions in 10 states to enact ordinances aimed at protecting citizens from a variety of corporate activities ranging from fracking to factory farming, but the "community rights" approach has not yet been definitively upheld in court.
Benton Food Freedom, the pro-Measure 2-89 political action committee, was heavily outspent by the measure's opponents.
As of Tuesday morning, campaign finance records filed with the state showed Benton Food Freedom had spent $22,758.87 during the campaign, compared to $131,897.96 by Benton County Citizens Opposed to Measure 2-89.
The "no on 2-89" forces also had support from two more broad-based political action committees, FirstVote PAC and the Oregon Farm Bureau PAC. Both registered in opposition to the Benton County ballot measure and reported spending a combined $45,050 this election cycle, though it wasn't immediately clear how much of that money went to fight the Benton County measure.
Read the original article on the Corvallis Gazette-Times here.
https://oregonseed.org/wp-content/uploads/2020/07/osa-logo.png
0
0
Admin
https://oregonseed.org/wp-content/uploads/2020/07/osa-logo.png
Admin
2015-05-20 09:08:18
2015-05-20 09:08:18
Anti-GMO measure goes down